Corporations and businesses continue to adopt philanthropic strategies as consumers attempt to make more ethical purchasing choices. This makes corporate sponsorships a wonderful major gift partnership between businesses near you and your nonprofit.
Whether your organization resides near some corporate headquarters in a major city or a rural area with family-owned businesses, corporate sponsorships can provide a helpful fundraising boost and open up possibilities for mutually-beneficial partnerships.
Types of Corporate Sponsors
Corporate sponsors come in two main varieties: event sponsors and organization sponsors. Consider both strategies to build your corporate sponsor program.
Event Sponsors
Event sponsors give to a certain campaign or special event. If you have an annual gala or Giving Tuesday campaign, you will contact event sponsors for matching gifts or to generate event revenue.
Perks for event sponsors are also closely tied to the specific event or campaign as part of your major gift partnership. Tickets for the event, prominent display or mention of the corporation's logo on promotional materials, and preferred parking are common benefits for event sponsors.
Organization Sponsors
Organization sponsors give toward the general operating of the organization, or other continuing expenses. Instead of receiving exposure through heavily-promoted events or campaigns, organization sponsors may simply give a major gift each year or quarter.
Perks for organization sponsors reflect the evergreen nature of their gift. Placement of their logo on the website's homepage for the entire year and inclusion on your organization's permanent donor wall are great examples.
Important Reminder about Corporate Sponsor Benefits
This type of corporation-nonprofit major gift partnership only works if the value to the nonprofit is larger than the value to the for-profit. So when you are deciding perks for your corporate sponsor, make sure they do not eclipse the value of the sponsor's monetary gift.
Benefits of Corporate Sponsors
Corporate sponsors provide an infusion of necessary funding, whether it is for a special event or general operating expenses. Building these relationships can provide a significant boost to major gifts efforts.
The corporation also receives tax benefits when giving to nonprofit organizations. Sponsorship exclusivity and the appearance of promoting the corporate sponsor can put the nonprofit into a tricky situation. Review this handy guide to understand when corporate sponsor contributions are tax-deductible and when they are not.
Tips for Locating Corporate Sponsors
Where do you start when developing a corporate sponsorship campaign?  Try these three practical tips.
Consult Board Members First
The best way to sell a corporation on giving a donation to your nonprofit is if you have a meaningful existing relationship with the corporation. Start with your board members when developing a corporate sponsorship campaign. Bonus points if your board member helps you make the ask! 
Securing a corporate sponsorship gift is a great way for a board member to fulfill a board minimum giving requirement at your nonprofit. Often organizations adopt a "give or get" policy as part of their major gift partnership to reach the giving minimum; this means a board member can either fundraise to cover their board minimum or donate the minimum amount themselves. A board member facilitating a corporate sponsorship gift would meet this requirement if your nonprofit decides to adopt board giving minimums.
Explore Professional Business Associations
No matter the size of your community there are several places to turn for insight on local businesses. Entities like the Chamber of Commerce and Jaycees (or Junior Chamber of Commerce) often offer ways for nonprofits to connect with the business community. Use marketing tools like e-newsletters and events like social mixers to build relationships with potential corporate sponsors.
Service clubs like Rotary Club or Kiwanis International provide ways for leaders to stay informed about their communities. Book a presentation at a service club to start a relationship with philanthropically-minded local leaders to kick off your major gift partnership program.
Develop a Personalized Sponsorship Toolkit
When you have a prospective corporate sponsorship, customize a sponsorship toolkit for the business so they understand the terms of this agreement. Be sure to use the business's official logo and name in the materials for a personalized touch.
An effective toolkit will clarify the expectations between both the corporate sponsor and the nonprofit as well as the intended results for the sponsorship money.
Include an easy reference list of the organization's responsibilities. Include the terms of the sponsorship, for example:
Logo placement on homepage of website
Free tickets to the event
Personalized banner hanging in facility
Mention in annual report, program guide, etc.
A brief but thorough explanation of the organization's mission, like a case for support document or annual report, should be included to inform the business about how their funds will be invested. If the sponsor is donating toward an event, include relevant event information as well.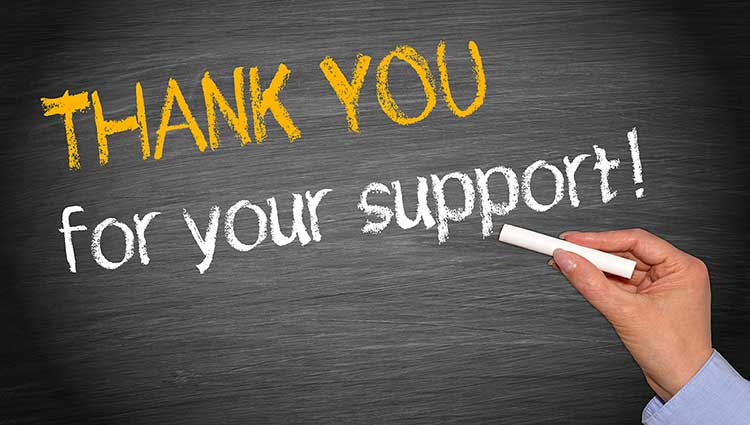 Conclusion
Corporate sponsorships can provide a useful and stable source of income within a major gifts strategy. Whether businesses sponsor a single event or provide general support to an organization, these sponsorships can result in a mutually beneficial situation.
Make sure to thank them more than once.