Having a professional mentor sounds like an inspiring boost to anyone's professional development. Being able to benefit from the wisdom and expertise of someone you trust sounds like a fantastic way to learn essential lessons and plan your next moves.
But how do you find a mentor? What makes a healthy mentor relationship? Can a non-traditional mentorship still provide similar benefits? Read on to learn practical ways to infuse priceless expertise into your professional development.
Find a Mentor
A traditional mentor relationship typically pairs someone with less expertise with someone more advanced in a similar career. While mentors often involve an older mentor and younger mentee, that is not always the case. Be open-minded when it comes to discovering a mentor match – you never know what you can learn from someone new!
Many professional associations offer a mentoring component to help motivated fundraisers. Look into your local Association of Fundraising Professionals chapter to see if they host a mentoring program. Your sector may also have special associations with available mentors, like healthcare, higher education, or religious fundraising membership associations.
Whether you encounter a mentorship naturally or enroll in a formal program, make sure there are clear expectations for your mentor relationship. Establish a regular communication schedule for check-ins. This will provide a way for the mentee to gather questions or experiences to talk through with their mentor at a designated time.
It's essential to establish clear boundaries and expectations early on in a mentor and mentee relationship. The best case scenario is a long-term relationship that grows as the mentee's career develops. By founding the relationship formally with clear standards, you give the relationship a chance to evolve into a more casual, collaborative mentorship in the future.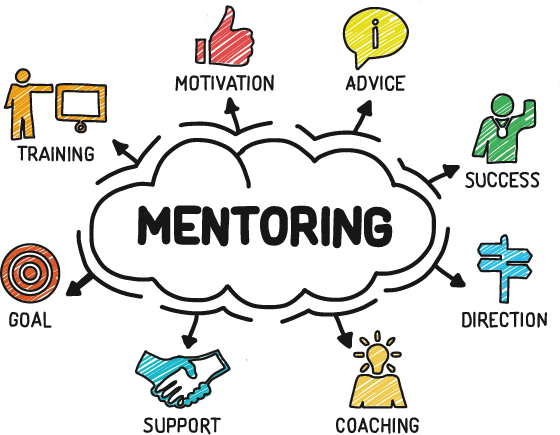 Consider a "Board of Directors"
If finding one individual mentor proves to be a challenge, consider gathering a collection of people who inspire you. Building your personal "board of directors" can be a terrific way to invite diverse points of view into your career choices.
Think about inspirational colleagues, friends, or managers you have encountered. The beauty about a personal board of directors instead of a single mentor is the ability to invite a variety of people into your professional life.
Perhaps you have someone you want to "chair" the "creativity committee" on this board of directors. This may be the person you turn to when you encounter writer's block on your next fundraising letter. Do you have someone you turn to for financial tips, and someone to help you with negotiations?
Expand beyond the fundraising sector for a vibrant personal board of directors. Just like for your organization's board, it is essential to recruit people across as many sectors of the community as possible. Be sure your personal board of directors both represents every side of you and incorporates people with different points of view from your own – it's the only way to grow!
Just like with a traditional mentor, be sure to choose people you trust and who take your requests for advice seriously. Enjoy the flexibility of this idea and consider the unique gifts you admire in the people in your life.
Research Digital Expertise (But Be Careful!)
Sometimes a traditional mentor relationship and a personal board of directors is simply not realistic. Luckily, we all have access to a wealth of free and abundant information to help us get inspired.
Just like when you were a kid, think about your role models. Often these were athletes, actors, and astronauts – truly larger-than-life people. Borrow this idea to help provide a jolt of inspiration to your career path.
Learn about the journey of someone who inspires you. This helps illuminate the challenges and opportunities everyone faces and can help motivate your own career choices. Find well-produced, factual documentaries, news articles, or books written or authorized by the person to absorb accurate information.
However, it is vital to find qualified individuals to follow when researching digital expertise. The Internet is filled with confident yet unqualified people dispensing life and career advice. When you come across someone who is sharing tips that resonate with you, take a few more steps to see if you can trust this digital mentor:
What is their educational or career background?
Do they have expertise you trust?
Who provides testimonials on their website or blurbs on their book? Can you trust those testimonials?
Where does their information come from? Do they provide citations to their sources or just consistently "go with their gut"?
Your attention is a valuable commodity on the Internet. Especially with something as important as your career and future, be sure to only invest your attention in places that truly deserve it.
Conclusion
Finding a mentor can provide career enhancement that can't be replicated anywhere else. While a traditional mentor experience may be easier to find than you think, other creative mentoring-adjacent alternatives exist too. Consider assembling a personal board of directors or locating digital content you trust for inspiration.
Whatever you choose as your personal development tool, be sure to do your research and establish a good structure for your mentorship. The best mentorships are based on trust and boundaries. Be sure to set clear expectations for the relationship and thoroughly vet the information you allow to inspire you.